Missing Jamal Murray and Michael Porter Jr the whole season, Denver was never going to have a normal season last year. If we exclude Nikola Jokic, Denver's roster was very inconsistent early on with the team only winning 18 of their first 36 games of the season. They improved during the second half of the season but mostly due to Jokic's insane level of play: 29.6 ppg while shooting 61.2% FG, 13.7 rpg and 7.9apg. Thanks to this, he was elected once again as the league's MVP.
Denver was only #19 in the league on 3pts shooting as they were missing Murray and Porter Jr, but they still managed to be a top 10 offense in the league as they have always been during the Jokic era. In the playoffs, Denver really didn't stand a chance against the eventual champions Golden State. Jokic produced elite numbers on offense, but the team as a whole lacked talent to counter the Warriors' potent offense.
2022/23 Outlook: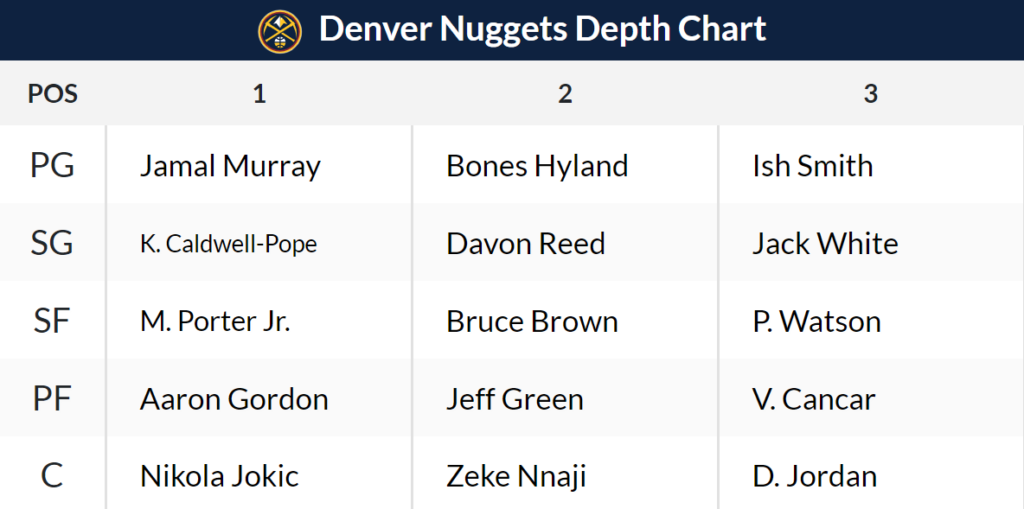 With both Murray and Porter Jr back, Denver has very high expectations for this season. Two seasons ago, after trading for Aaron Gordon, the Nuggets started crushing their opponents until Murray got injured, so it's natural that they have high hopes for them with Murray back. We can count on Denver being back to have a top 5 offense assuming that both Murray and Porter Jr have healthy seasons.
The Nuggets' front office decided to make some changes to their roster during the offseason. As they traded Monte Morris and Will Barton to the Wizards in exchange for Kentavious Caldwell-Pope and Ish Smith. They signed Bruce Brown in an underrated move. KCP and Brown should be able to provide an additional boost on defense that the team has been missing over the last few years. Denver has never managed to be a top 10 defense in the Jokic era, so the idea of improving their perimeter defense sounds like a really smart idea.
Bones Hyland had a surprisingly nice season last year and he was even one of the keys for the team's improvement during the second half of the season with 12.8 ppg, 46.5% FG, 40.0% 3pts and a 4.3/1.3 A/TO ratio. He will have a bigger role this year with Morris leaving the team and Murray possibly in load management a good portion of the season.
If Murray and Porter Jr return to the team at a good level and keep themselves healthy throughout the season, then Denver should be able to fight for a top seed spot in the Western Conference this season.