In their first full season without James Harden, Houston kept their rebuilding process going and was the worst team in the league. The main reason for this achievement was the fact that they were the worst defense in the NBA by being awful in every aspect: #29 in eFG%/opp, #27 in def reb and #25 in FT rate/opp.
They used a fast tempo offensive scheme in order to take advantage of the youth on their roster. However, that made them also be the worst team in the league in turnovers per game. Even though Daryl Morey isn't the team's GM anymore, Houston kept the same playing style that they have been using since the Harden era: they were ranked #1 on rim vol%, #4 on 3pts vol% and dead last in mid range vol% of shots.
The team was led by two young backcourt players in Jalen Green and Kevin Porter Jr. Both players were high volume but low efficiency shooters. Still, Green improved during the second half of the season where he managed to have really nice efficient numbers in 24 games: 47.6% FG and 38.7% 3pts. That's great news for Houston's future.
Alperen Sengun was a positive surprise in his rookie season. He started being Christian Wood's main backup but he kept gaining minutes during the season as his creativity on offense was well noticed.
2022/23 Outlook: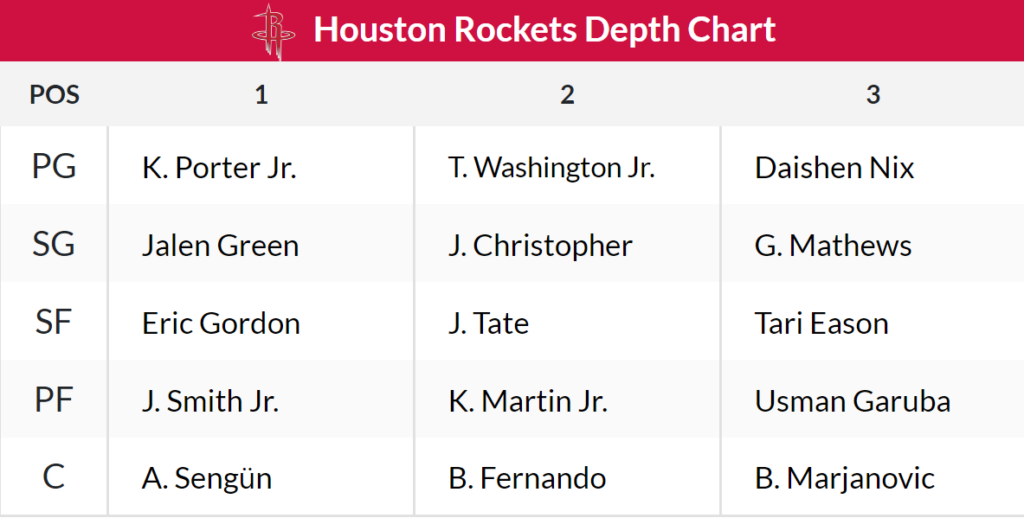 Houston had the #3 pick in the draft and they selected Jabari Smith Jr. They also selected Tari Eason with the #17 pick. Jabari is a much needed addition to the team's frontcourt as it was the less talented unit in the roster. His game on offense bodes well for the team as the Rockets' style requires perimeter shooting from everybody and he was a 44% three-point shooter on over 5 attempts per game through 17 games in college.
The Rockets will then have some explosive young players for their offense in the roster. They also added Derrick Favors to give the team some leadership in the frontcourt, but this is mostly a roster full of quite inexperienced players.
It will be tough for the team not to be again one of the most turnover prone units in the league. They have the potential to be better than the #26 on offense that they were last season, but their defense will probably be quite awful once again and the main responsible for most of their losses…