Brooklyn, Milwaukee and Philadelphia were the favorites to have the best regular season record in the East last season, but it was Miami who managed to do that by being the most consistent team in the conference.
In part, the team's success was based on their stingy defense that was the #4 best unit in the league. They were elite at creating turnovers and at cleaning the glass. They also really knew how to defend the perimeter as they were the best 3pts% defense in the league despite being the team that allowed the most 3pts vol%.
Erik Spoelstra finished in third place in the NBA Coach of the Year competition and he would have been a worthy winner. Miami was considered to be a top heavy player team with no depth, but reality showed that Spoelstra was able to find different players to contribute to the team. Kyle Lowry missed 19 games, Jimmy Butler 25 games and Bam Adebayo 26 games but yet the Heat remained competitive with the likes of Gabe Vincent, Max Strus and Omer Yurtseven. Adebayo could have won the Defensive Player of the Year award if he had played more games, while Tyler Herro was named the NBA Sixth Man of the Year.
In the playoffs, if it wasn't for Butler missing a shot late in the G7 of the 2022 Eastern Conference Finals against Boston and Miami could have claimed a pair of NBA Finals appearances in the last three years.
2022/23 Outlook: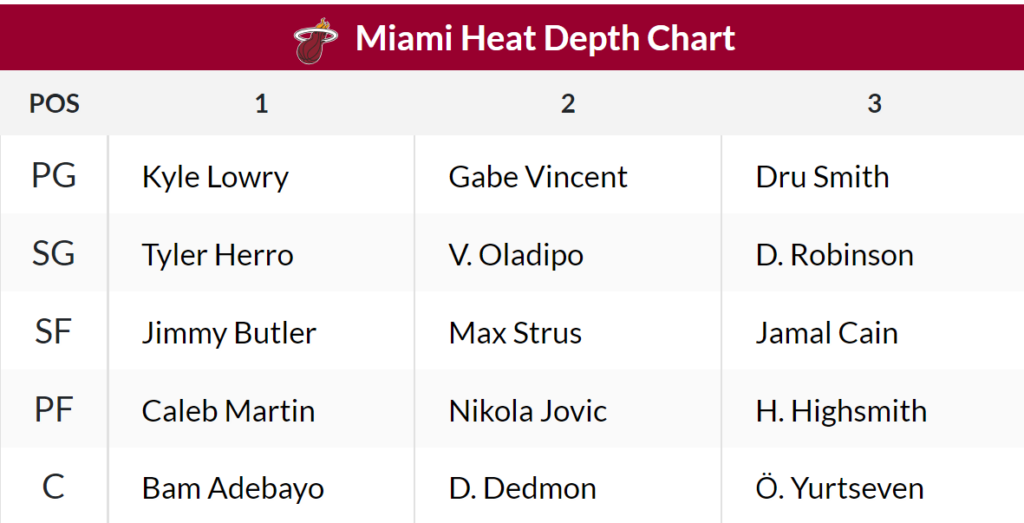 Besides PJ Tucker who was signed by Philadelphia, Miami is keeping the same structure to the one they had last season, so we can expect them to be extremely competitive again. The Heat certainly hope that they can have healthier seasons from Lowry, Butler and Bayo, however they seem to have good depth in case that doesn't happen. Victor Oladipo had good moments in the playoffs last season, as taking advantage of Lowry's injury, he went from being out of the rotation to having some solid stretches on both ends of the floor. That should give him some extra minutes on the court this season.
Duncan Robinson had a down season at shooting from deep, but Max Strus emerged by hitting 41.0% from deep. These two will stretch the floor for the team. In order to replace PJ Tucker, rookie Nikola Jovic could eventually earn that spot as the Heat is one of the best teams at developing young players.
With an experienced and established core of players and with one of the best coaches in the league, Miami will certainly be very competitive once again this season.