Once again, Oklahoma City was able to be somewhat competitive early in a season by going 5-6 on their first 11 games. Then, they had their usual losing streak and shortly after, they went again into tanking mode.
When healthy, Shai Gilgeous-Alexander was a tough guard to defend. His driving game has improved with him being more aggressive and getting a career high 7.2 FT/game. However, after shooting 41.8% 3pts in the previous season, SGA regressed to just 30.0% last season. That was bad news for a team that was dead last in the league at shooting threes (32.7%).
Luguentz Dort confirmed that he is a good defensive player and deservingly earned a long term contract. Top rookie Josh Giddey showed that he can do everything well on court expect… shooting the ball. All of this made the Thunder be, expectedly and once again, one of the worst teams in the league last season.
2022/23 Outlook: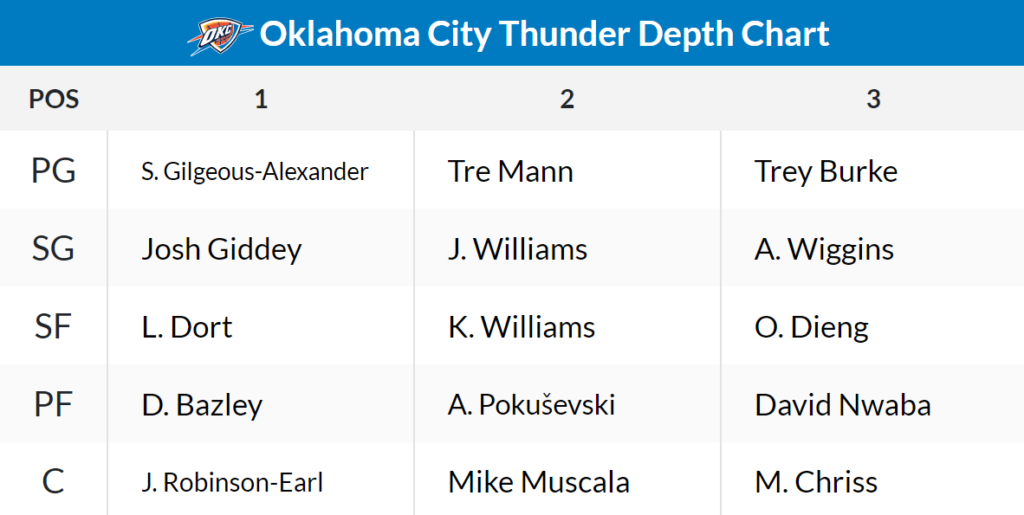 Oklahoma City had the right to select the #2 pick and drafted Chet Holmgren. Unfortunately, he suffered a right foot injury and will miss the 2022-23 season. The Thunder didn't make any substantial moves in free agency and with Holmgren missing the whole season, they won't have any new talent around really.
While they have already shown to have some decent talent in the backcourt due to good drafting, the same can't be said about their frontcourt as most of their players are undersized and with limited shooting ability. This will put an absurd pressure on the backcourt to produce points. This lack of balance has hurt the team in previous seasons (they were last and second last in offensive rating in the last two years) and expectations for this season can't be much better.
Oklahoma City was actually a competent team on defense last season, but their ceiling remains the same for this season and it won't be high enough for them to avoid being one of the worst teams in the league one more time.